Sending a Pick-Up Confirmation
Pick-Up Confirmations must be sent on our website according to the chart below. If you do not send your Pick-Up Confirmation on time, CCS will not be able to have your site's food ready. You will need to reschedule your pick-up according to CCS' availability.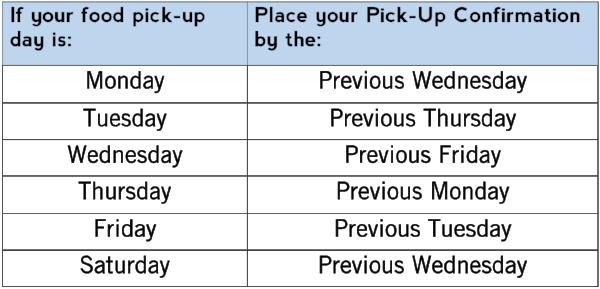 To send your confirmation:
Select your CDP name below

Answer all questions asked

Check each box in the "By submitting this pickup confirmation:" section to confirm that you agree to comply with CCS' policies and procedures

Press Send
After clicking send, you will receive a confirmation email. If you do not receive a confirmation email, contact the CDP Team as soon as possible. A screenshot of the Pickup Confirmation page on the Crossroads website is on page 12 of the Community Distribution Partner Handbook.
---